Dental Exams and Cleanings
Preventing Problems Before They Start
The health of your teeth and mouth is very important to the well-being of your entire body, and while routine brushing and flossing at home is necessary to keep your smile looking its best, visiting your dentist for a comprehensive exam and cleaning is essential. The American Dental Association recommends that you visit your dentist every six months to ensure your teeth stay healthy and your smile stays beautiful.
By routinely seeing your dentist for exams and cleanings, you can:
Prevent tooth decay, gum disease, and bad breath
Save money by avoiding costly and extensive dental procedures
Keep your teeth white by reducing staining from food and drinks
Shorten the time spent in your dentist's office
Have a smile that will last a lifetime
The Exam
During your exam, your dentist will thoroughly examine your teeth and gums for signs of tooth decay, gum disease, and other health problems. Your dentist may also want to take X-rays to see what is happening beneath the surface of your teeth and gums. Whether these X-rays are traditional or digital, the images provided will help your dentist discover dental issues not visible to the naked eye.
Professional Cleanings
Your dental hygienist will begin your cleaning by exploring the surface of your teeth to determine if you have any cavities and to examine the quality of existing fillings. The dental hygienist will then perform a periodontal exam to make sure your gums adhere tightly to your teeth, and no periodontal disease or bone loss may be occurring.
Next, your hygienist will carefully clean your teeth with a variety of tools to remove any hard mineral buildup (tartar) from your teeth. Then your hygienist will floss your teeth, use a polishing compound, and apply fluoride. Cleanings usually aren't painful, but if you have any anxiety about your dental exam, be sure to let your hygienist know. They may offer several sedation options to ensure your comfort. If your dentist or hygienist finds tooth decay or gum disease, they will talk to you about changing your brushing or flossing habits. In severe cases, they may recommend antibiotics or other dental treatments. If your teeth and gums appear to be healthy, your dentist will probably recommend that you continue your brushing and flossing routine as usual.
---
Digital X-Rays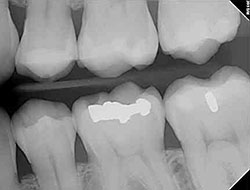 Using the most advanced dental technology possible is just as important as staying up-to-date on the latest treatment techniques. Because our practice is dedicated to providing you with the safest and most convenient treatment options available, we utilize advanced digital X-ray technology in our office.
Digital X-rays provide several advanced imaging options designed to save time, provide clearer dental photos, and expose patients to less radiation than traditional X-ray technology.
Our practice is focused on making your dental experience as comfortable as possible. At your next appointment, we'll be happy to answer any questions you may have.
---
Sirona GALILEOS® CBCT

Cone Beam Computed Tomography (CBCT) technology is quickly becoming the standard of care when it comes to dental imaging. Our office is committed to providing the highest quality of dental care, and we are proud to introduce the Sirona GALILEOS 3D CBCT Scanner into our practice. When it comes to your dental needs, the GALILEOS CBCT Scanner allows us to plan all aspects of your care with precision and accuracy.
Quick–Comfortable–Effective
GALILEOS images are highly detailed, showing both soft and hard tissue without sacrificing clarity.
GALILEOS CBCT Scanners take less than a minute, are completely painless, and the radiation dose is 100 times less than a traditional CT scanner.
We can analyze the position and orientation of critical structures, like nerves, teeth roots, the sinus, and nose, helping to make your diagnosis as accurate as possible.
With this advanced imaging technology, we are able to ensure the long-term stability of your dental restorations better than ever before.
We can focus on your desired aesthetic outcome throughout your entire treatment process.